Best tripadvisor review in this year for us and about workshops..Thank you Alex ,you are very kind..
"Become a Picasso in a few hours!!"
5/5 yıldız30 Mart 2015 tarihinde yorum yapıldı
Google Çevirisi
I booked my whole family on a combined marbling and tile painting course of 2 -3 hours each (they can be booked separately).
Ali and his wife are both wonderful hosts and Ali is an incredibly engaging, charismatic and entertaining teacher.
Despite us having no experience; within a very short time we were producing wonderful marbled pictures with tulips, daisies and carnations, which, (to our untrained eyes) were at least the equal of professionals.
The tile painting was just as satisfying, we used stencils to put the outline of the pattern on tiles, plates and bowls and then had to colour them in. Whilst requiring good concentration, the end results were a source of quiet pride.
We were given a constant supply of tea and scintillating conversation, and ended up with work which we produced which will be around long after our other memories of fantastic Istanbul start to fade.
An exceptionally enjoyable and memorable day.
Thanks guys!
Mart 2015 tarihinde ziyaret etti
http://www.tripadvisor.com.tr/ShowUserReviews-g293974-d3651541-r262725944-Les_Arts_Turcs_Turkish_Marbling_Classes-Istanbul.html#CHECK_RATES_CONT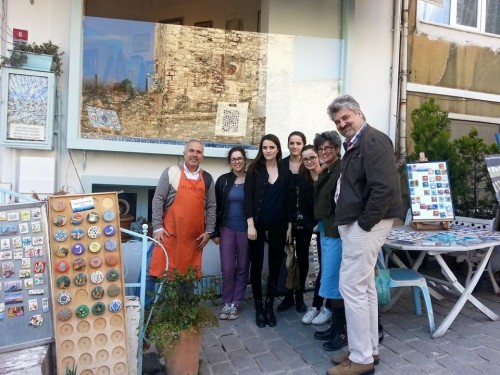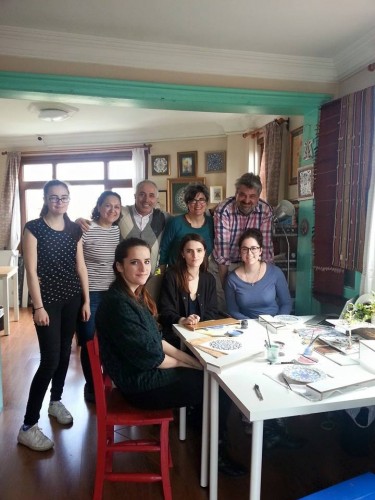 Please contact us for our classess
Ali Senguler – Betul Senguler